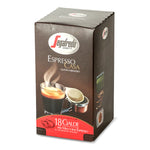 Segafredo Zanetti® Espresso Casa - Single Pods - Case of 6/18 Ct. Pods
The specially selected beans from the best varieties of Arabica and Robusta, with tasting notes of dark chocolate, hazelnut and plum, with a bold full body and finish.  Ground to perfection, and vacuum packed to guarantee freshness.  
Includes 6 cases of 18 count cartons.
This product is NOT KEURIG* or K-CUP® BREWER COMPATIBLE. 

Looking for great espresso, but without the caffeine? Try Segafredo Zanetti® - Deca Crem (Decaf) - Single Serve Espresso Pods
*K-CUP® is a registered trademark of Keurig Green Mountain, Inc. Segafredo Zanetti® is not affiliated with Keurig Green Mountain, Inc.